Travelezplus Card Terms and Conditions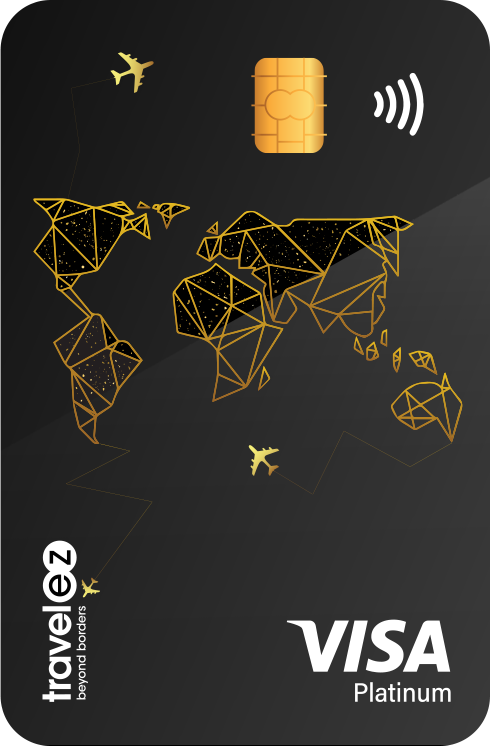 Terms & Conditions
Only applicable for Travelez Plus Platinum Cardholders.
Card must be in Active to avail the Travel Insurance.
To avail the Complimentary Travel Insurance, the Cardholder should book an Air ticket or Hotel booking or Foreign Tour(s) with a minimum spend of AED 500 (Five Hundred) and above (or equivalent Foreign Currency).
Cardholder shall call Al Fardan Exchange Call Center ("Call Center") to avail the Complimentary Travel Insurance subject to successfully meeting the conditions specified in Points 1 to 3 above.
Only one Complimentary Travel Insurance with a max policy period of thirty (30) days will be issued on the Cardholders name.
Cardholder can avail Complimentary Travel Insurance multiple times in a year with a max validity period of 30 days subject to booking multiple Airline or Hotel bookings or tours.
*As long as Card holder return to Home Country/Destination (i.e. UAE) within 30 days and again starts a new trip) and fulfilling the eligibility criteria.
Cardholder shall share documentary evidence of the travel/hotel/tour booking and when asked by the Call Center Agent prior to issuing the Complimentary Travel Insurance.
The Complimentary Travel Insurance shall only be issued in digital manner (i.e. shared to Cardholder's registered Al Fardan Exchange's Email ID)
Travel insurance shall not be issued on Cardholder's family or friends (unless they hold a separate Travelez Plus Platinum card and meeting the conditions mentioned in Point 1 to 3 above).
Al Fardan Exchange shall be entitled at its sole discretion to reverse the Complimentary Travel Insurance offer inadvertently without any prior intimation whatsoever.
Al Fardan Exchange shall have the rights to amend, change the offer terms including the offer value, recall, stop, cancel this offer any time during the offer period without any reason(s) and/or communication to the Cardholder.
Al Fardan Exchange will be providing the Complimentary Travel Insurance offer to its Travelez Plus Platinum card Cardholders in tie up with Oman Insurance who actually provides the Travel Insurance Service. Al Fardan Exchange is not a point-of-sale or Broker for Oman Insurance and hence Al Fardan Exchange shall not be held liable for any non-honoring of claims, modification of inclusion and exclusions of the policy cover etc without prior intimation to the Cardholder.
This offer cannot be clubbed with any other offer provided by Visa or Al Fardan Exchange or both.
The Complimentary Travel Insurance is offered/powered by Oman Insurance for Al Fardan Exchange eligible Travelez Plus Platinum cardholders and all Terms & Conditions imposed by Oman Insurance wrt to the Travel Insurance will be applicable.
Oman Insurance Company standard travel policy wording:

Insured age must be between 18 years and 70 years.
Maximum duration per trip is 30 days.
Cardholders can make multi trips in a year however per trip will be covered only for a maximum period of 30 days and Cardholder will be required to restart the second and consecutive trips from UAE (every new trip will be required with a new Airfare ticket/Hotel booking using the Travelez Plus Platinum card).
Cards issued during the policy period is covered until the expiry of the master policy.
Private aircraft excluded.
This policy is Schengen Visa compliant.
Premium Payment Warranty - 30 days from inception, on breach of which, the policy will be cancelled ab-initio.

The policy will not be covered in UN sanction list countries.
In order to avail the Complementary Travel Insurance provided by Oman Insurance the Cardholder hereby agrees to adhere to all the Terms & Conditions specified under the "Master Policy Wording -Group Travel Insurance" document with the Policy Number 0102020401902828, which will be shared to the Cardholdervia Email while availing the Insurance.
Terms and Condition are governed by the laws of UAE and subject to exclusive jurisdiction of Dubai Courts.
Al Fardan Exchange reserves the right to modify the minimum transaction spend criteria anytime without informing its Cardholders.
For all disputes Cardholder to mail across the scanned copy of the Air tickets/hotel/tour booking to support@travelezcard.com
To claim travel insurance at zero cost, update nomination, assistance and other Insurance related queries - Cardholders to call Oman Insurance directly at their toll-free number 800-4746 or send an email to nmcoic@omaninsurance.ae along with their Master Group Policy Number (0102020401902828).